Top photo by Ariel Panowicz.
This interview was conducted via e-mail and has been edited for length and clarity.
How would you define what it means to be a successful state legislator?
Success looks different for everyone because we all have limits on what we are able to do. In the short time I have as a State Senator, I will feel successful if I can use the circumstances that are handed to me to bend as much power as I can in service of our most vulnerable Nebraskans.
If you could go back in time, what's one thing you'd do differently in your first term?
Looking back, I see that I made some beginners errors that probably could not have been avoided—types of things I just had to learn the hard way. For example, introducing a few bills without first gauging the support of key colleagues, or being unprepared for a few obvious questions in committee hearings. But on the whole, I am proud of myself. Overall, I can say with confidence and pride that I didn't leave anything on the table, that I picked my battles well, and that I did as much as I could. I balanced the firmness of my own convictions and principles with doing what's best for my district and for Nebraska. And I did this as part of a team of 49 senators plus all of our indispensable staff.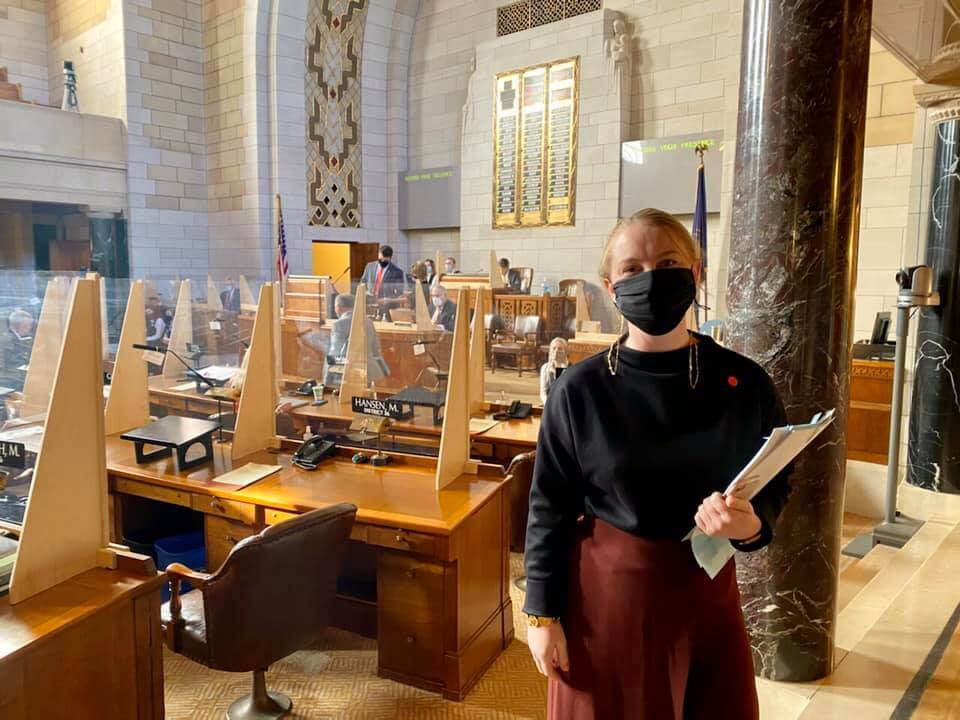 What surprised you about being a state legislator?
In Nebraska, we have the nation's only nonpartisan unicameral legislature, which means that we have no official party identification, we have no caucuses, no majority/minority leaders, etc. I am on the far left side of the spectrum represented in the Nebraska Legislature, and I broke barriers as the first out LGBTQ+ state senator ever, as a single working parent, and as an atheist. I was really afraid that my colleagues would stereotype me or be hostile toward me because of who I am, but I was wrong. I have found every one of my colleagues amenable, willing to work with me, and I have made several close friends with colleagues who are ideologically very different from me. I think that Nebraska legislators are able to benefit from these positive relationships because of our officially nonpartisan structure. We fight, we disagree, we argue, but we do cooperate, and that's a good thing for Nebraskans.
What was one challenge you faced as a legislator that you didn't anticipate?
The pandemic, absolutely. When the pandemic began to reach Nebraska in March, the Legislature suspended its session, and my office started working remotely. We made the decision to pivot from our legislative work to a focus on the immediate, urgent safety needs of Nebraskans facing hunger, unemployment, and eviction. Our agenda for 2020 changed completely, from the slate of policy goals we brought into the new year, to the simple but critical objective of ensuring that Nebraskans would survive.
It was very important that our office was able to pivot from our original policy goals to the day-to-day crisis work that COVID has demanded of our elected leaders. But I certainly never expected to be in this position.
What's your proudest moment or accomplishment?
I'm very proud of how my staff has handled the COVID-19 pandemic. We are still helping Nebraskans receive unemployment and SNAP benefits they are entitled to from the early part of the pandemic. Many of these Nebraskans have never been system-involved, and many are slipping through the cracks when trying to work with agencies to get their benefits.
Of course, I'm also taking care of my daughter, managing her virtual learning, and running a business of my own. My hat is off to all parents and educators who are dealing with balancing work, education, schooling, and all the challenges of this pandemic. It feels hard every day, but we have to be proud of everything we've been able to do amidst all this adversity.
How do you stay true to your values in a political system that's designed to uphold the status quo?
For me, it's the easiest thing in the world. Our entire political institution—the rules, the norms, everything—was created by people who are invested in the status quo to ensure that people marginalized by the status quo will still work to maintain it. I have endeavored to not be a part of that by questioning my assumptions about what's going on, and by having the courage or playfulness to question others' assumptions. Why should I worry what others think of my values? I am the one who has to live with myself and sleep at night! And this is why representation in government is so important. I want different elected leaders, I want diverse elected leaders, and I want us to work together to render the status quo obsolete.
What advice would you give newly-elected state legislators as they enter their first session?
I have the approach that there is nothing sacramental about a seat in the legislature, and there is nothing intrinsically special about me that entitles me to hold one. We are just people who are holding a job. The power we have is awesome, but we make mistakes, we have motives that are good and bad, we build our little legacies if we're lucky, and then we are term-limited or we retire or we lose reelection. I know that I am just passing through, and I have to use my time here and the power I have to make life better for other people. You can't want this job because you think you have the answers. You have to want this job because you know we have the answers, and you want to help implement those solutions. You can't tie all of your identity up in elective office. It's just a channel for you to do good work. And there are many ways to do that besides holding office.