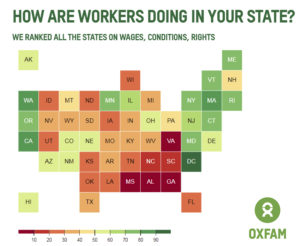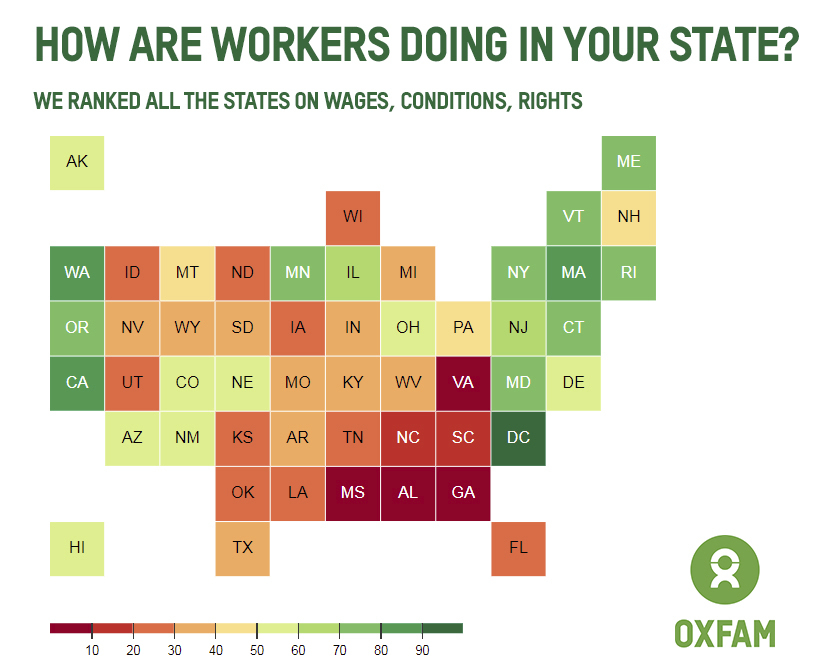 Oxfam's new Best States to Work Index identifies which states have the strongest workplace policies and finds a positive correlation to better economic and health outcomes for residents. 
DENVER, Colo. – Ahead of Labor Day, anti-poverty organization Oxfam America released "The Best States to Work Index," a new report ranking states with the strongest workplace policies. The report also documents a positive correlation between strong policies and better economic and health outcomes for residents. The accompanying interactive website ranks the steps states are taking to keep working families out of poverty and give them opportunities to succeed.
"With the Trump administration and a conservative U.S. Supreme Court chipping away at workers' rights, this new report underscores the importance of state policies that reinforce those rights and support working families," said Sam Munger, SiX Director of External Affairs. "And it's no coincidence that states with more progressive policies score better in quality of life and health outcomes."
The report finds Washington, D.C., Washington State, California, and Massachusetts are the best places to work, thanks to progressive policies on wages, worker protections, and the right to organize.
Oxfam emphasizes that "the United States has a strong tradition of advancements and innovations in policy at the state level. These innovations offer a template for progress for both other US states as well as the federal government."