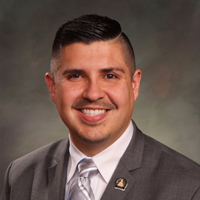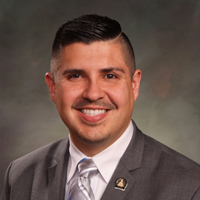 WASHINGTON, D.C. – Today, the Board of Directors of the State Innovation Exchange (SiX) is excited to announce that Hon. Jessie Ulibarri will be joining the organization as our new Executive Director beginning September 4, 2018.
As a former Colorado State Senator, non-profit executive, and community organizer, Jessie has dedicated his career to building a unified progressive movement where everyone can fully enjoy the abundance that this country has historically offered to so few.
"Winning elections doesn't matter if the those who take office cannot move on progressive policy priorities, and the State Innovation Exchange, under Jessie's leadership, will be positioned to help legislators across the nation advance a progressive, people-driven agenda. SiX is here to help progressive legislators succeed, and I'm thrilled Jessie is joining us to advance this mission," said SiX Board Chair Mary Kusler.
"As a former legislator, I'm keenly aware of the capacity, policy, and training needs of legislators and their staff, who play an essential role in exploring innovative and effective solutions to our nation's greatest challenges. As the next Executive Director of SiX, I'm committed to helping progressive legislators bring about lasting policy change that protects and advances democracy, ensures economic opportunity for all, and protects civil and human rights," said Ulibarri.
For the last 17 years, Jessie has worked in the progressive movement at the local, state, and federal levels as a Colorado State Senator, senior nonprofit executive, trainer, and community organizer, most recently serving as the Co-Executive Director of Wellstone. He has facilitated the creation of seven state-based leadership development projects, and passed hundreds of economic, racial, and gender justice policies into state law, including wage theft protections, pregnancy accommodations, election modernization, driver's licenses for undocumented residents, and Colorado's largest investment in affordable housing. Jessie has trained thousands of progressive activists, campaign managers, and elected officials across the country. Since SiX's inception, Jessie has partnered closely with the organization to develop the capacity of state legislators to build progressive governing power nationwide.
"After a competitive national recruitment and interview process, the team at SiX couldn't be happier to be welcoming Jessie as our new Executive Director. Jessie's background as a state legislator and non-profit leader, and his proven effectiveness at bringing about lasting progressive policy change in his community makes him the perfect fit to lead SiX as we enter a bright new chapter in our development," said Neha Patel, SiX's current Interim Executive Director.
Jessie will officially start on September 4, 2018. Until then, Neha Patel continues as Interim Executive Director.