State Policies to Combat Abusive Scheduling Practices
By the Center for Popular Democracy (CPD) and SiX
Today a majority of working Americans – over 80 million people – clock into a job with an hourly wage. As millions of families benefit from higher minimum wages (thanks to the work of many of you!), these victories are undermined by unstable work hours. Many hourly workers are expected to be available 24/7 to work part-time jobs with no guaranteed hours, and experience huge fluctuations in weekly income.
That's why we've teamed up with the Center for Popular Democracy (CPD) to bring you resources on how you can restore a Fair Workweek for workers in your states.
See below for a new policy brief, video and audio interviews with experts, an example op-ed, and sample social media.
---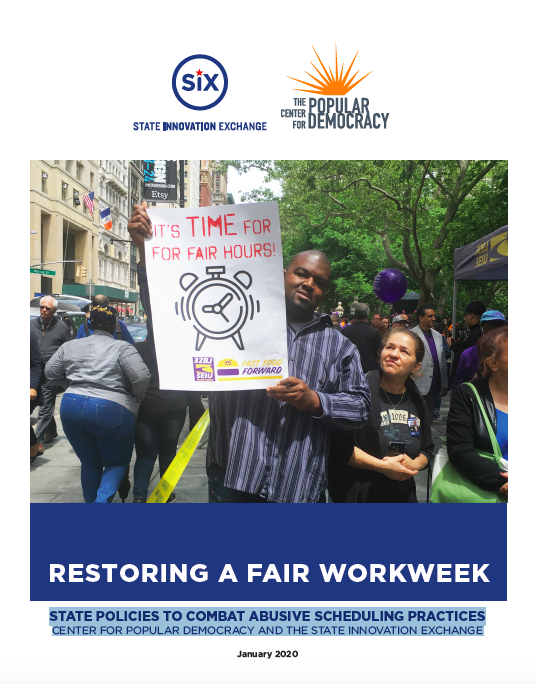 We all need a workweek we can count on – one that allows all of us to care for our families, stay healthy, and get ahead. This new policy brief outlines the problem, the research, and the ways to create new work hour protections that ensure that hourly workers at large service-sector chains have a greater voice in their workweek, predictable schedules, and the opportunity to work full time.
---
Also check out these video and audio interviews on Fair Workweek legislation that break down research on the problem, policy reforms, and legislative strategy:
Also check out this op-ed by sponsors of Fair Workweek legislation in Washington, Rep. Nicole Macri and Sen. Rebecca Saldaña
Please let us know if you are interested in further resources and connections on Fair Workweek legislation in your state. Reach out to [email protected] anytime.