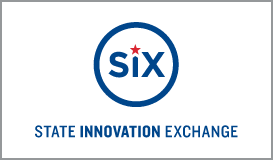 When three groups merged in late 2014 to form the State Innovation Exchange (SiX), the purpose of this consolidation was clear: we wanted to build an organization that was uniquely positioned to help legislators drive a progressive agenda forward in states across the country. And that's exactly what we are doing. Today, SiX supports a network of more than 1,500 elected officials nationwide who are working to strengthen our democracy, fight for working families, defend civil rights and liberties, and protect the environment.
Over the course of the past 18 months, we've had the good fortune of having a team that is incredibly passionate about helping to make an impact on people's lives – a team that works tirelessly every day to ensure that legislators in all 50 states have the support needed to advance and defend progressive policies on the issues that matter. We have also had incredible support from groups like the Democracy Alliance and many other funders and donors, who understand the importance of our work and our potential for impact in statehouses across the country.
Because of the work of our staff and the support of our funders, we have been able to grow. Over the summer, we opened a new office in Washington, DC – adding to our offices in Denver, CO and Madison, WI. Over the past few months, we have also grown our staff. These exciting new hires include:
Arriana Belkin, Associate Legislative Director: Arriana is a recent graduate of the University of Denver, where she focused on economic and social justice. She has worked at America Votes and New Era Colorado, where she assisted with strategic planning and election work. She also served as a summer coordinator for State Rep. Leslie Herod's successful campaign.
Vanessa Harmoush, Digital Communications Manager: Vanessa comes to the organization with a background in print, online, and broadcast media. She developed an interest in progressive politics after serving as a constituent outreach and media relations intern for former U.S. Senator Mark Udall. Most recently, Vanessa served as a production intern for the Al Jazeera News Network in Washington, DC.
Karen Moldovan, Associate Legislative Director: Prior to joining the SiX team, Karen led the policy teams of LiveWell Colorado and, before that, the Colorado Coalition Against Sexual Assault. During that time, she developed policy strategies at the municipal, state, and federal level to advance healthy food access, active transportation, and health equity. She also conceptualized and championed numerous legislative efforts regarding the response to sexual violence in Colorado, with a focus on increasing access to critical medical services.
To see our full staff listing and biographies, click here.
We are thrilled to have Arriana, Vanessa, and Karen join the SiX family, as we continue to support the efforts of state legislators championing progressive work in every corner of the country. Thank you, as always, for all that you do.
Nick Rathod is the founder and Executive Director of the State Innovation Exchange (SiX).