This past Tuesday was the first day of Florida's 2019 legislative session. Progressive grassroots organizations and legislators unveiled their vision for Florida, the Florida Sunrise Agenda, at The People's Response immediately following the governor's State of the State.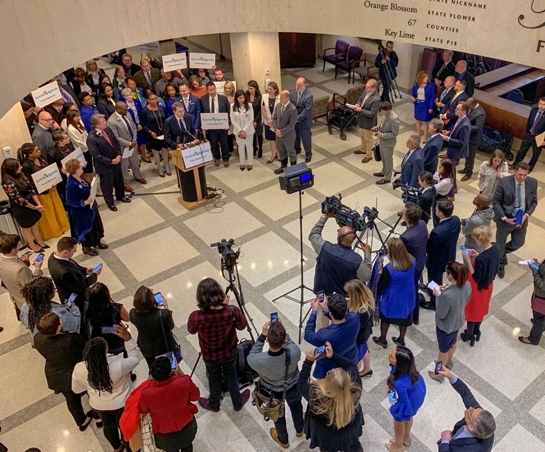 The Sunrise Agenda is based on five pillars: our healthcare, our economy, our students, our environment, and our people.
Our Healthcare: Floridians across the state want the legislature to lower healthcare costs and premiums, as well as making prescription drugs more affordable. In addition to making sure everyday Floridians are able to have access to affordable, quality healthcare coverage, 71% of voters want to ensure abortion remains legal in the state.
Our Economy: Current economic policies supported by the majority in the legislature are not working for all Floridians. The top economic policy on the minds of Florida voters is ensuring that women earn the same pay as men for the same work. Making sure equal pay for equal work policies are in place is vital not only to women, but for all families. In addition to equal pay, voters support progressive economic policies such as raising the minimum wage, earned sick leave, and paid family and medical leave.
Our Students: Floridians want the legislature to increase investment, equity, and equality in our public education system so that all students, regardless of the economic situation they are born into, have opportunities to succeed in Florida. Investing in our students also means funding a world class public education system.
Our Environment: Our state is beautiful because of our water, beaches, and nature. However, that is all at stake if the state doesn't act when it comes to climate change. The health and well-being of our children and families are at stake. Hotter temperatures, air pollution, and warmer waters are a serious threat to the health of our residents, especially children and the elderly.
Our People: Lastly, the people of the great state of Florida are our most valuable asset. 71% of Florida voters support nondiscrimination protections for the LGBTQ community that would ensure that people are not discriminated when it comes to housing, employment, and public accommodations. Furthermore, 85% of voters agree that it is important to have an open and functioning democracy in Florida, which means we must have free and fair elections. We must modernize and better fund our election system and expand Florida's online voter registration system is accessible to every eligible voter. Lastly, nearly 60% of Florida voters agree that we should make voter registration automatic for all citizens ages 18 and older who have drivers' licenses.
Florida progressives are proud to present a clear vision that supports all Floridians. We will always be fighting for our healthcare, our economy, our students, our environment, and our people. To learn more about the Florida Sunrise Agenda, please visit www.flsunriseagenda.com and follow the statewide conversation on social media, using #FLSunriseAgenda.